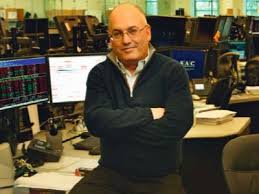 A recent Vanity Fair article by Bess Levin reported that when Steve Cohen, the veteran of the financial markets, reopens his hedge fund in January 2018, it will be a leader in automation.  According to Bloomberg, the fund is pursuing a project to automate trading "using analyst recommendations as an input, the effort involves examining the DNA of trades: the size of positions; the level of risk and leverage." This is one of the latest innovations in Steve Cohen's world, a fund manager whose previous shop, SAC in Connecticut, was one of the industry's top performers.
What enables Mr. Cohen to introduce scores of computers and why now and not before?   As discussed in our bestselling new book "Real-Time Risk: What Investors Should Know About Fintech, High-Frequency Trading and Flash Crashes" (Wiley, 2017), the answer to the question lies in the evolution of technology.  Due to the changes in the technological landscape, previously unthinkable portfolio management strategies are now very feasible.
Some 20 to 30 years ago, technology usually comprised extra large and super-expensive machines that required not only a special staff that knew how to communicate with those machines, but also often required dedicated refrigerated offices—the machines emitted so much heat that it was necessary to cool them off to avoid literal meltdown. A typical Alpha DEC, a popular model of the late 1980s and early 1990s, was a giant cube that measured about 6 feet in height, 6 feet in length, and 6 feet in depth, could only be accessed by a tiny black-and-white text-only terminal, and cost about $20 million (yes, we are talking about US dollars here, and in today's money, those $20 million translate to $35 million).
Fast-forward to today, and a computer of the same power, the same processing capacity, and the same memory takes up about the size of a tablet or a laptop, requires no special maintenance cost, let alone air-conditioning, and costs (drumroll, please…) some $200 at a local Best Buy. That's it.
The significant drop in the price of computing is likely due to the mass-production of computer components overseas. Taiwanese, Korean, and Chinese computer chips can be found in pretty much every computer, no matter how big or how small. Still, while overseas production of technology components has drastically reduced costs, it was not the single factor behind the dramatic plunge in prices of computer equipment. The second biggest reason is probably the amazing expansion of the market for computer technology in the individual space. Who does not own a device today? In the United States in particular, it seems that every six-year-old is now entitled to his or her own iPhone, correspondingly in blue or pink. Considering that many of the iPhone components are closely related or are even the same as those in other devices, such as laptops, tablets, security alarms, car computers, and many more average household items, the demand for these components and their volume is so large that it is indeed profitable for manufacturers to sell the parts at extremely low costs.
The shrinking costs of technology have eliminated entry barriers for thousands of startups wanting a piece of the pie. Fintech was born and has been booming. Still, the plunging costs alone do not tell the whole story about technology's influence on finance. Another component of the fintech revolution was the exponential upgrade in computing power per every square inch (or millimeter, depending on your background) of computing surface—core computer components can be infinitesimally thin.
Can Mr. Cohen literally pack his offices floor-to-ceiling with computers that evaluate a million of data sources and portfolio allocation decisions in a blink of an eye, all to generate sophisticated investment decisions? The answer is a resounding 'yes'.
Irene Aldridge is Managing Director, Head of Research at AbleMarkets, a Big Data for Capital Markets company, specializing in real-time and near-real time Software-as-a-Service improving execution, portfolio allocation and risk management. She is a co-author of #1 New Release and Number 1 International Bestseller in Financial Risk Management category "Real-Time Risk: What Investors Should Know About Fintech, High-Frequency Trading and Flash Crashes" (Wiley, 2017), and an author of "High-Frequency Trading: A Practical Guide to Algorithmic Strategies and Trading Systems" (Wiley, 2nd edition, 2013).  She can be seen at the upcoming 5th annual Big Data Finance Conference at NYU Center for Data Science on May 19, 2017.